How One Woman Overcame Her Fear of Working Out in Public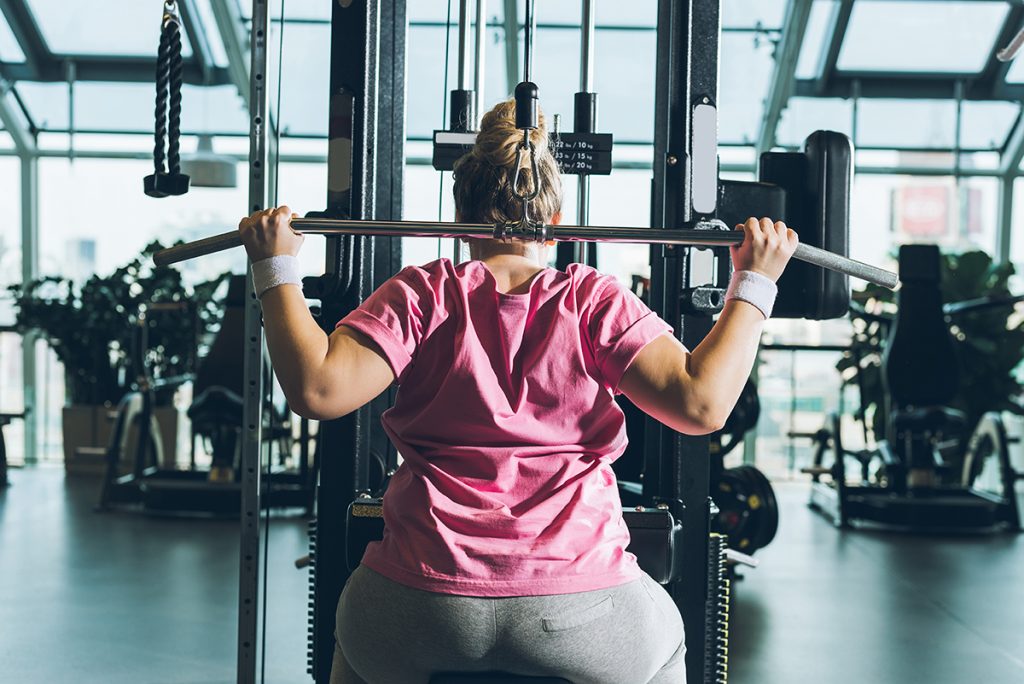 Getting regular exercise is an important factor in achieving and maintaining a healthy weight. But for many of us, the thought of exercising in a giant mirror-filled room full of chiseled strangers is frankly terrifying. Even the idea of jogging along a busy street or taking a yoga class can be intimidating, especially for those of us who don't fit into the stereotypical mold of a gym-goer.

If you hate working out in public, you are not alone—but it is possible to overcome your fear and own your right to exercise! The author of this SELF article, Erika Nicole Kendall, is living proof. A decade ago, she was 170 pounds overweight; today she is a certified personal trainer. In the article, she recounts the moment she realized why she hated the gym so much: it wasn't because she hated exercising, but that she was extremely uncomfortable working out in front of other people. She was candid about the reason for her discomfort:
"Ask any overweight person you know, and they'll tell you: It often feels like no one wants to see any of us do anything. The leering, the stares, the awkward and uncomfortable unsolicited advice…It's a level of discomfort that makes many of us feel like we would be better off simply giving up."
Erika realized these feelings were holding her back and she owed it to herself and her health to find ways to overcome her fear.
3 Tips for Overcoming Your Fear of the Gym
Erika came up with some clever strategies to, as she states, transform the gym into "a more positive space instead of a scary one." We'd like to share her top tips for overcoming fear of exercising in public with you.
Start by going to the gym during off-peak hours.
Erika joined a 24-hour gym near her home and made it a point to go during the quieter hours—around 10pm worked well for her. Not only did this allow her to avoid the crowds, but it gave her a chance to get acquainted with the weight room and cardio machines at her own pace.

The hours before and after the regular 9 to 5 workday tend to be the busiest, so you might try scheduling a late lunch hour to go work out. You might also have an easier time finding staff members to help you learn the equipment during slower daytime hours. Or, you might find that exercising in the late evening makes you the happiest.
Find your "best" way to learn the ropes.
No one walks into the gym for the first time knowing how all the equipment works or what exercises to do. However, it's important to correctly perform exercises to avoid injury and ensure you get the most benefit from your workouts.

If you aren't ready to hire a personal trainer or go to a group fitness class, then you'll have to put in the effort on your own. Erika watched a lot of YouTube videos to learn proper technique with weightlifting and compiled her own lists of exercises and workout plans from different websites and magazines.
Remind yourself that you belong anywhere you go.
Although things are getting better, the media is still pretty bad about showing one type of person or body as representative of "fitness," making it easy to think we have to look a certain way to belong—but this simply isn't true. We're all humans, and we all go to the gym for the same basic reasons: to get fitter and healthier, look and feel our best, and perhaps to meet other people.

To help overcome her anxiety over workout out in public, Erika asserted to herself that she belonged there just as much as anyone else. It helped her to look at the gym as a "microcosm of the outside world" with most people just trying to do their best and the odd bully here and there. While it wasn't always easy, she reminded herself that she was entitled to use space at the gym; after all, she was paying the same fee as everyone else!
For lasting, healthy weight loss, having the right support matters
Just as finding a comfortable space to workout is key to sticking to a regular exercise routine, finding the right support is key to successfully making changes that lead to a healthier lifestyle. If you are ready to improve your health and lose weight, we invite you to reach out to our experienced Inland Empire weight loss surgeons to discuss strategies for achieving healthy, lasting weight loss. We can also help you find Rancho Cucamonga gyms that are welcoming to people of all sizes and novice exercisers. Call 909-579-3111 or contact us online.