LAP Band Surgery (Gastric Banding Surgery)
If you have been researching your weight loss surgery options, chances are you have heard of the LAP band. This is actually one brand-name device that surgeons use for a procedure called "adjustable gastric banding," a popular, reversible bariatric procedure that can help our Rancho Cucamonga weight loss patients lose weight and improve obesity-related health conditions.
How can adjustable gastric banding help me lose weight?
Adjustable gastric banding places an inflatable silicone ring around the upper portion of the stomach. This creates a much smaller stomach pouch that limits the amount of food that you can eat at one time.  The ring is connected to a small port, which sits just under the skin. Through this port, the ring can be inflated to a specific amount after surgery to control the rate at which food travels through the rest of the stomach—similar to how the width of the middle of an hourglass will control the rate of sand that falls through.
After adjustable gastric banding surgery, the patient feels satisfied with smaller amounts of food, eats significantly less than before, and gradually loses weight as a result.
Your gastric band options: LAP Band or Realize Band
There are currently two FDA approved gastric band devices, the LAP Band and the Realize Band. Both work in essentially the same way, but vary slightly in their adjustability, making the LAP Band a better fit (pun intended!) for some patients and the Realize Band better for others. Our bariatric surgeons at Surgical Arts of Inland Empire are experienced with both types of gastric bands and can help you understand the two options during a personal consultation.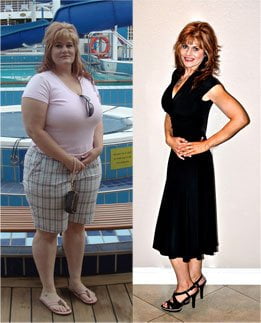 Benefits of adjustable gastric banding
Many of our weight loss patients enjoy many physical and mental benefits following their lap-band surgery. Just a few of the proven benefits include:
Achieves significant weight loss by helping you feel full faster and for longer
Average patient loses 65% of excess weight within first year
Less invasive procedure compared to gastric sleeve (a.k.a. sleeve gastrectomy) or gastric bypass
Quick recovery; patients are back to work within 4 days
Band can be adjusted periodically to allow for greater or lesser food intake
Does not interfere with nutrient absorption
Procedure is reversible and there are no permanent changes to anatomy
How gastric banding is performed
Adjustable gastric banding is performed laparoscopically. Through very small incisions in the abdomen, the surgeon places the band around the upper part of your stomach and secures it with sutures. Thin tubing connects the band to a saline port, which rests just below the skin on the abdomen, where it can be easily accessed for adjustments. The procedure takes about 30 to 60 minutes to perform, using general anesthesia.
Patients typically go home within 24 hours and can resume work and light activity within 1 week. Regular exercise can be gradually resumed in 4 to 6 weeks. Following surgery, you will need to follow a special diet while you heal and your body adjusts to having the LAP or Realize Band. Your bariatric surgeon will explain the post-operative steps in greater detail, including diet restrictions during recovery, at your consultation.
Video: Demonstration of how Dr. Bobby Bhasker Rao performs the procedure
This helpful animation sequence shows how our bariatric surgeon Dr. Bobby Bhasker Rao and assistant weight loss surgeon Dr. Irene Tower perform lap-band procedures.

Frequently Asked Questions
When will I see weight loss after my surgery?
You should begin to lose weight quickly after a gastric banding procedure. You will need to return to our office periodically for your surgeon to make adjustments to the LAP or Realize Band, via the port just beneath your skin, tightening or loosening it as needed to ensure a steady, safe weight loss.
The majority of weight loss typically occurs within the first 2 years after surgery, but may occur gradually beyond that period. Healthy diet and exercise habits are always recommended to achieve the best possible improvement in your health.
Over time, your new eating habits will become easier and your body weight will gradually decrease, helping to alleviate or reduce your risk of several obesity-related diseases and disorders, such as:
Hypertension
Type II diabetes
High Cholesterol
Heart Disease
Sleep Apnea
Am I a good candidate?
If you are significantly overweight and have failed to lose weight through supervised diet changes and exercise, you may be a candidate for adjustable gastric banding. Most bariatric surgery patients have:
BMI (body mass index) of 35-40. Check your BMI »
One or more health problems related to obesity
To benefit from bariatric surgery, one must also be committed to making long-term lifestyle changes such as healthy diet and regular exercise. The best way to find out if you are a good candidate for the LAP band or Realize Band is to consult with an experienced bariatric surgeon.
Are there risks with adjustable gastric banding?
When performed by an experienced, qualified bariatric surgeon, LAP-band surgery has an excellent safety profile and there is minimal risk for serious complications. However, any surgery carries risk, and you should be aware of the risks and side effects associated with gastric banding:
Complications requiring surgery to remove the band within 5 years occur in less than 10% of patients
Nausea, vomiting or indigestion after eating certain foods or exceeding the quantity your stomach can handle
Constipation or diarrhea
Stretching of stomach pouch
Weight regain (if patient does not adhere to necessary nutrition and lifestyle changes)
For the right patient, adjustable gastric banding can be an excellent, less invasive bariatric surgery option to lose weight rapidly, safely, and with lasting results.
How is a gastric band different from a gastric sleeve?
In a lap-band procedure, an adjustable band is wrapped around the top of the stomach, reducing the space available to hold food. In gastric sleeve surgery, also known as sleeve gastrectomy, qualified weight loss surgeons can remove up to 80% of the stomach. It is worth noting that while lap bands are removable, sleeve gastrectomy is not reversible.
How is it different from gastric balloon surgery?
During gastric balloon surgery, a weight loss surgeon will carefully place an inflatable saline-filled silicone balloon in your stomach. This balloon is designed to take up space and therefore leave less room for food, thus making you feel full sooner. Gastric balloon surgery is typically recommended for weight loss patients who have found diet, exercise, and other weight loss methods to be ineffective. Because the gastric balloon is placed non-surgically with an endoscope, gastric balloon surgery is considered to be a minimally-invasive procedure.
Similar to gastric banding, gastric balloon is a reversible procedure—after 6 months have passed, the gastric balloon will be removed via endoscopy. Depending on your weight progress plan determined by you and your doctor, another gastric balloon may be placed after the first is removed.
Proudly serving Inland Empire, Rancho Cucamonga, and Beverly Hills
Shed pounds and live better with Inland Weight Loss! We believe that losing weight is often the first step towards a complete personal transformation. Our patients often remark how their confidence and wellbeing have improved after finally shedding unwanted pounds and achieving noticeable weight loss.
To learn more about how adjustable gastric banding or one of our other weight loss procedures can improve your quality of life, contact us online or call our Rancho Cucamonga office at (909) 579-3111 today. Our staff is here to listen to your concerns and ready to assist you in finally reaching your weight loss goals!