Is a Diet Rich in Fish Key to Long-Term Health?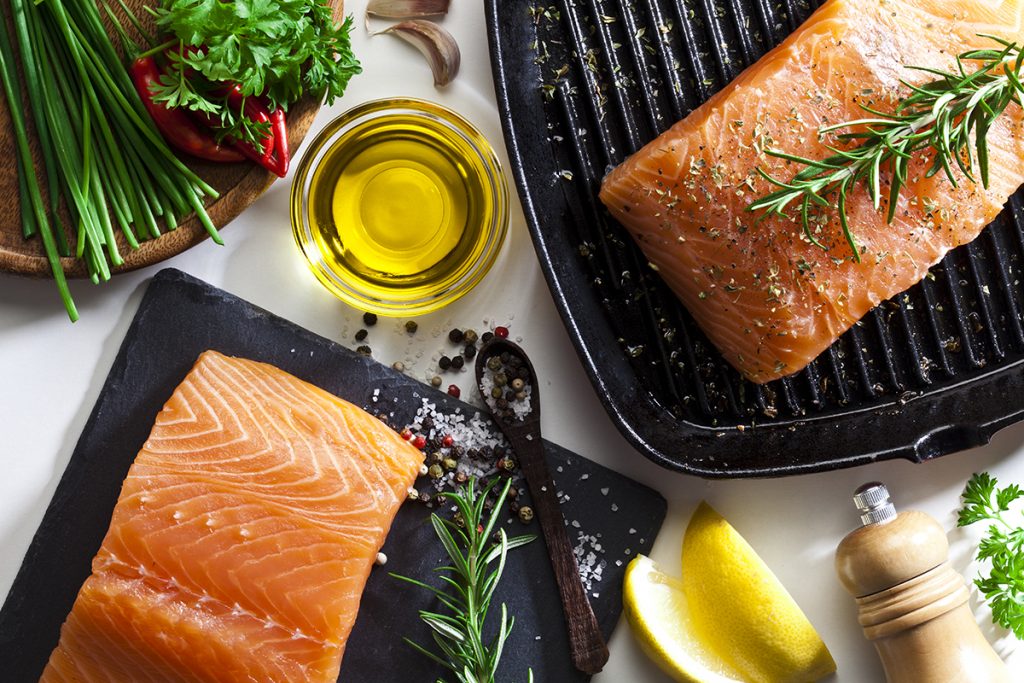 An apple a day. Meditation. Time in Nature. Exercising and staying strong. These are just a few things that we associate with longevity and vitality. Shall we add eating fish to the list?

A recent study published in the British Medical Journal suggests that perhaps we should! In a large longitudinal study, 2,600 adults across the United States were followed over the course of 23 years to see who was enjoying the best health as they grew older, and what those people were doing. The results, as reported by the New York Times, show they are likely eating plenty of seafood. Let us explain.
High Omega-3 Fatty Acid Levels Associated with Healthy Aging
The researchers measured the participants' blood samples for several markers. One that stood out was their levels of Omega-3 fatty acids, particularly EPA and DHA. Participants who had the highest levels of EPA and DHA had an 18% lower risk for "unhealthy aging," which means they were less likely to suffer from life-limiting chronic physical or mental disease.

How does fish enter the scene? Seafood is one of the best dietary sources of EPA and DHA, so it was determined that fish must be included in the diets of these healthier seniors.
Seafood is one of the best dietary sources of Omega-3 fatty acids including EPA and DHA
It's not surprising this long term study found this association. Other studies have also proven that Omega-3 fatty acids can help improve brain function, reduce heart attack risk, and reduce inflammation.
Which fish are highest in Omega-3 fatty acids?
Look to (sustainably sourced!) fatty fish such as salmon, anchovies, and tuna if you want to add more EPA and DHA to your diet, as these fish rank the highest. If you need ideas for how to prepare them, check out this list of healthy fish recipes.

Worried about possible contaminants in fish such as mercury? This guide from the Harvard School of Public Health can help. But, as a rule of thumb, smaller fish and shellfish (e.g., sardines, anchovies, scallops) have the least mercury, while very large fish such as swordfish, certain types of tuna, and sharks, have the most, and should be avoided by pregnant women. However, when chosen wisely, the health benefits of eating fish outweigh the risks.
Other Sources of Omega-3 Fatty Acids
Not a fan of fish? Vegan? Here are some other ways you can get the benefits of these particular fatty acids:
Take a fish oil supplement; just make sure you ask your doctor or dietitian for recommendations to ensure you buy a high-quality product.
The yolks of pastured eggs (from hens that have access to the outdoors and sunshine) have good amounts of DHA in addition to being packed with other vitamins.
For a plant-based option, simply look to the source where fish get these very nutrients. Certain algaes are known to contain DHA or EPA and can now be purchased in supplement form.
Looking to overhaul your health for the long term? We can help!
At Surgical Arts of the Inland Empire, we don't just help patients lose weight through surgery, we help them live healthier, happier, and more fulfilling lives through smart, doable lifestyle changes. Our patients succeed because our programs include nutrition coaching, counseling, and peer support in addition to surgery.

Whether you are looking for personalized weight loss tips, or you wish to speak to a Rancho Cucamonga weight loss surgeon about options to help you achieve a healthier, slimmer body, we are here to help. Call 909-579-3111 to schedule your personal, free consultation.