Weight Loss Patients May Incorporate Cosmetic Surgery for Best Results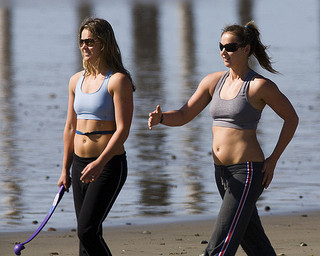 Bariatric surgery patients can benefit by consulting a plastic surgeon as a part of their surgical preparation or recovery.
Though each patient's case is unique, many who chose to have bariatric surgeries such as the Lap Band procedure may eventually lose enough weight that their remaining skin cannot keep up. In these cases, a variety of cosmetic surgery and non-surgical options are available for patients who wish to address this issue and enhance the appearance of their weight loss.
Lap Band Patients May Benefit from Body Contouring or a Tummy Tuck
Patients who use Lap Band procedures often lose a hundred pounds or more of excess weight, something that the body may not be capable of responding to quickly. All of the supportive tissue that was created to help bear the old weight does not get lost as quickly as the fat tissue. In the case of skin, some portions may never satisfactorily disappear on their own.
For this reason, it is often helpful to visit a plastic surgeon during the recovery process and assess the options you may have for enhancement of your final results. This is particularly important once you start to get down to your goal weight, but speaking with the surgeon right away can often help get you on the right track. You may also be able to pick up some tips that will help your final appearance.
Patients who chose a surgical practice that has experts in both plastic surgery and bariatric surgery may benefit from the knowledge these surgeons possess, as well as their ability to easily communicate with one another. Improved communication will help ensure that patients have a natural final result, and are personally cared for at each step of the process. Talk to your surgeon during a consultation to see if you may benefit from incorporating cosmetic surgery into your recovery.
Photo by o5com on Flickr.