Get in Your Rainbow of Veggies with These 30+ Dinners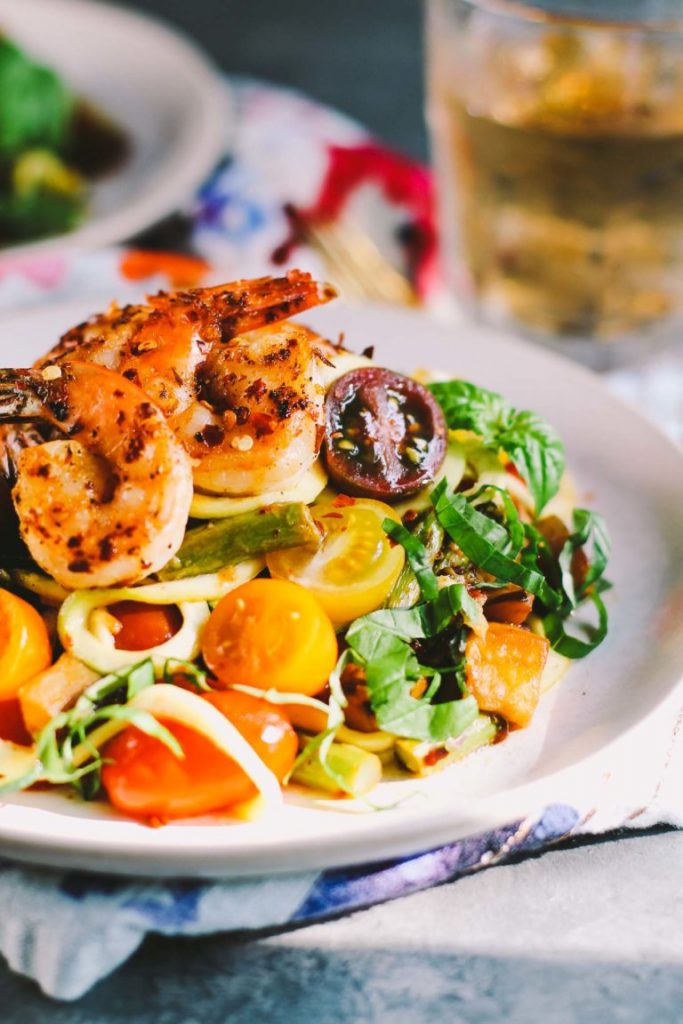 In case you haven't noticed, summer is officially here. This time of year is perfect for whipping out some of the freshest and healthiest recipes you've been pinning during your winter hiatus—and PureWow recently highlighted 30+ meals you'll want to add to your list.
Ready for clean, delicious eating? Here are some of our favorite ideas.
Go vegan
Eating vegan recipes a couple of nights a week is one of the easiest ways to get plenty of veggies in your diet—and perfect for this time of year when you don't want to be weighed down with heavier meals. Skeptical? Trust us, you can achieve delicious flavors without added animal products.
Vegan fiesta taco bowl
Taco Tuesday just got easier (and healthier) with this simple recipe. With lime "sour cream", smoky seitan, fresh herbs, beans, corn, quinoa and crispy lettuce, you won't feel like you're missing out.
Vegan sriracha meatballs with noodles and fresh veggies
Did the meatballs in the recipe title throw you off? Don't worry, they're made of tofu, but with the added sriracha and spices, you really won't know the difference. Add some of your favorite veggies and top with some chives, sesame seeds, and shredded carrots, and you've got yourself a gourmet meal that is low on calories and tasty too.
Keep it simple
Between work, kids, friends, and hobbies, sometimes there simply isn't time for an extravagant meal. But that doesn't mean you're destined to a sad meal of Kraft mac 'n' cheese and canned veg. Whip up one of the recipes below for little effort with maximum flavor.
20 minute paleo egg roll bowls
One of our favorite pastimes is logging onto Pinterest to find delicious recipes that won't blow our diets—we even have an entire board dedicated to paleo recipes. This 20 minute paleo egg roll bowl is a fun revamp on the classic, transforming the same appealing flavors into a nutritious meal. With cilantro, carrots, freshly grated ginger, two types of cabbage, and green onions, this earthy rainbow is not only beautiful but also delicious.
Sweet potato and black bean tacos
Talk about simple! With just two main ingredients, these sweet potato and black bean tacos are the perfect quick meal after a busy day. Plus, you can make the sweet potatoes ahead of time if you know you'll be in a pinch. Whip up some blue cheese dressing to top it all off, and you'll be enjoying a great summer meal without the fuss.
Be the chef de cuisine
If you're looking to throw on the arpon and wow your friends, try one of these veggie-packed recipes—they aren't as scary as they sound.
Aglio olio zoodles with shrimp and local veggies
For those avoiding carbs this summer, say hello to your new best find: zoodles, or spiralized zucchini noodles. This healthy recipe uses our favorite summer squash spiralized and topped with fresh basil, tomatoes, asparagus, eggplant, and garlic. Finish it off by adding some sautéed shrimp and voilà! Dinner is served.
Gnocchi with grilled corn and burrata
You'll be earning 5-stars from friends with simple recipe that looks like a gourmet rainbow of color. To start, purchase store-bought gnocchi to save time, add corn, burrata cheese, red onion, and fresh arugula and then top with chopped basil, parmesan cheese, and your favorite seasonings. This one-pot meal tastes as heavenly as it looks.
How to eat healthy for weight loss
At Surgical Arts of Inland Empire, we work with many patients who are trying to lose excess weight and feel their best. In our experience, incorporating plenty of produce in your diet is one of the best ways to feel more vibrant and enjoy healthier meals without feeling restricted.
We hope these recipes help you make fun meals and memories with those you love this summer. If you have any questions about the best ways to establish a healthier lifestyle or want to learn more about your additional weight loss options, contact us today. We've helped many patients in and around Rancho Cucamonga and the Inland Empire and look forward to working with you too!
For a little more recipe inspiration, check out Pure Wow's full list of recipes that will knock your socks off (and maybe a few pounds too!).