Can Subscription Meal Kits Help Me Lose Weight?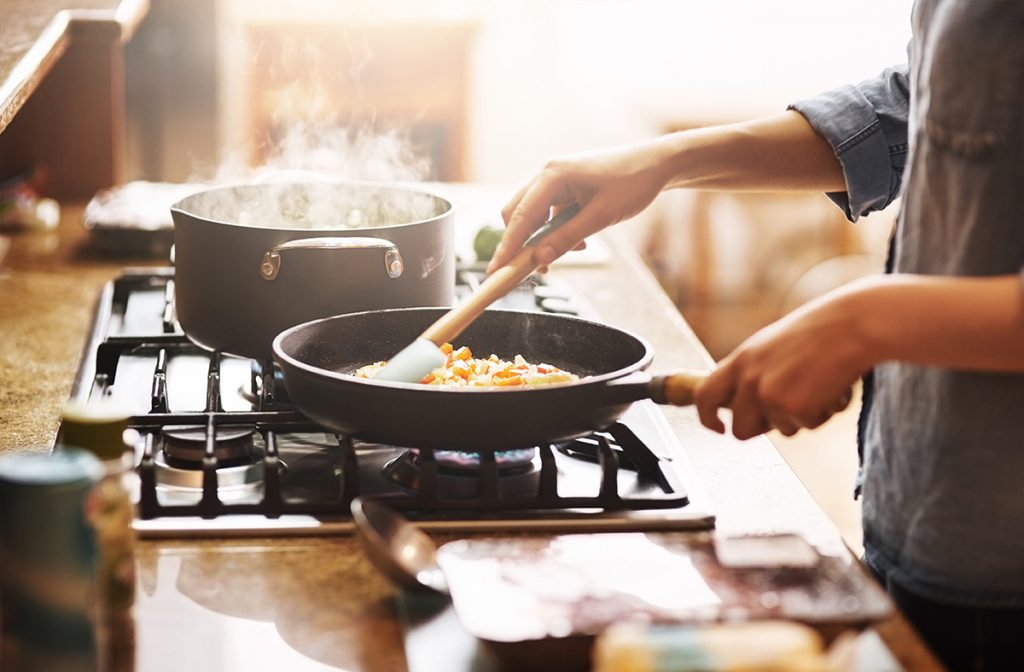 These days, it's all about convenience. We have near limitless options when it comes to getting purchases delivered right to our doors—including food. Brands like HelloFresh and Blue Apron are taking subscription meal kits to a whole new level by sending subscribers fresh ingredients, step-by-step directions, and everything they need to make tasty, relatively easy meals.

Seasoned home chefs may wonder about the value of services like this (can't you just go to the store and then follow a recipe?), but busy professionals, people interested in learning to cook, and even those hoping to eat healthier are trying out weekly meal deliveries. But can subscription meal kits also be a way to lose weight?

We took a look at some of the most popular options to determine if these meal kits might benefit our medical weight loss patients.

Not all meal kits are the same—and not all of the options are particularly healthy.
How do meal kits work?
Most meal kit services are fairly flexible in terms of frequency, though they typically run on a weekly schedule. Usually, you select how many people you are feeding and how many recipes you would like to receive per week, and your kit is shipped with the necessary ingredients and instructions. Many meal kit providers also allow you to choose certain options based on your diet, such as vegetarian or gluten-free plans.
Most meal kit services provide high quality ingredients and some are almost as cost-effective as buying your own groceries.
When your meal kit is delivered in an insulated box, you can refrigerate it for later or start cooking immediately. You will be provided with the right amount of ingredients to prep and make your recipe. They are also often designed to use a minimal number of tools, pots, and pans.
Are meal kits healthy?
This is a complex question, as there are many different meal kit services and what is considered a "healthy option" by the service may not be the right fit for you. It also depends on how the meal kits you choose compare to what you typically eat—if you find yourself avoiding vegetables, chowing down on premade foods, or frequently ordering takeout, meal kit dinners may very well be a healthier way to eat.

Not all meal kits are equal when it comes to health—and not all of the options within each plan are particularly healthy. Nutrients, fiber, and calories per meal can vary greatly so you'll need to be discerning when making your choices. Some healthy-sounding options may be packed with sugars, sodium, and other things you'd rather avoid eating in excess, so check the nutrition information before ordering.

All that said, there are some key health advantages that are inherent to most subscription meal kits:

Portion control. Rather than cooking a recipe that may yield extra servings, most meal kits give you exactly what you need for one serving per person—and no more.
Gaining more awareness of what you eat. Receiving nutrition info for everything you're eating is helpful for some dieters. Also, if you eat out a lot and don't pay much attention to what goes into the meals you're eating, interacting with each ingredient as you put together your meal will make you more aware of what goes into a dish.
Fresh, colorful ingredients. To stay competitive, most meal kit providers offer fresh, quality ingredients and design colorful, Instagram-worthy meals. Why does colorful matter to your health? It usually means you'll be eating a number of vegetable that are rich in fiber and diverse nutrients.
Expand your horizons. Many meal kit services offer unique recipes that will diversify your veggie intake, provide new ways to enjoy healthy proteins, and introduce you to new ingredients you've never tried before. Adding diversity to your diet—particularly when it comes to veggies and whole grains—is a healthy move in the right direction.
Improving your kitchen skills. Whether you subscribe to meal kits long-term or not, the formula is bound to make you more comfortable in the kitchen, which can help you incorporate healthy foods into your diet for years to come.
Even with those advantages, it's important to remember that, as with any weight loss plan, you cannot rely on meal kits to do all the work for you. You'll need to make healthy choices for your other meals and continue a regular exercise routine.
What are some of the most popular meal kits?
A quick Google search yields dozens of different meal kits, making it a little overwhelming to find the right fit for you. We dug through a few to find meal kit options with the best reviews.
HelloFresh
HelloFresh is one of the most recognizable names in meal kit providers, but is that because they have the biggest ad budget or because they actually offer a quality service? By and large, it seems their subscribers love their meals—and with a diverse range of options, HelloFresh may be a great fit for a large number of people.

They have an in-house dietician reviewing their chef's recipes, and offer a variety of plans to suit different dietary restrictions, including gluten-free, vegan and vegetarian, and nut-free. While the calorie content can differ between recipes, their offerings seem generally healthy, thanks to carefully chosen ingredients, quality proteins, and plenty of fresh produce.

Price range: Starting at $6.99 per meal per person.
Purple Carrot
This vegetarian meal kit offers quick, easy, and gourmet meals that are high in protein and entirely plant-based. They also offer TB12 Performance meals which are gluten-free and low in soy.

Purple Carrot offers three different types of plans—Quick & Easy, High Protein, and Chef's Choice—but you can customize further or mix and match to make sure you're getting exactly what you want. You will receive three recipes per week with two servings each. While there are some outliers, most of their meals appear to be high quality, nutrient-rich, and generally healthy.

Price range: $12 per serving.
Blue Apron
Similar to HelloFresh, Blue Apron provides subscribers with chef-designed recipes meant to take the hassle out of dinner prep. They also offer sustainably sourced ingredients of a high quality, meaning you can feel good about what you are eating—and with the addition of recyclable packaging and ice packs, you'll lessen the environmental impact of using a meal kit.

In terms of healthy options, a look at a sample week shows a variety of styles of food with varying levels of healthiness. They can accommodate vegetarians, pescetarians, and those who don't eat red meat, though anyone with serious food allergies (such as gluten or nuts) should be wary since all food is processed in the same facility.

Price range: Starting at $7.49 per serving.
Sun Basket
Sun Basket is one of the more popular kits which self-designate as healthy—and they do seem to offer a number of "clean" eating options. With organic produce, responsibly sourced meats and seafood, and a variety of styles, this company appears dedicated to healthy, delicious food options.

Sun Basket stands out for the diverse meal plans they offer, such as carb-conscious, Paleo, lean, gluten-free, vegan, mediterranean, pescatarian, and even diabetes-friendly—making it a great option for a variety of lifestyles.

Price range: $11.99 per serving
Home Chef
This meal kit is one of the most popular among truly novice cooks, as the recipes are very simple and easy to make. Not only that, but you get to choose from 15 different meals every week so you can enjoy a good variety.

The recipes offered by Home Chef appear to be slightly more traditional than the others, so it's probably a good fit for picky eaters or those who don't have adventurous palates. That being said, some of the meals don't appear to be that healthy in nature, so it may not be the right choice if weight loss is your primary goal.

Price range: Starting at $7.99 per serving.
What are the cons of meal kits?
One perceived con (and deterrent) for many people is the cost of meal kits. Many fear the per-meal price gives you less bang for your buck than buying your own ingredients at the store and preparing a meal. But, most meal kit services provide high quality ingredients and some cost comparisons have found only minor differences. That's because meal kit services buy their ingredients in bulk and offer favorable pricing in their efforts to get the most subscribers.

You'll never have to buy a whole bottle of something when you only need a tablespoon. Additionally, if you regularly throw out food, you may offset any cost difference by reducing food waste. It can also make a lot of financial sense if you are replacing restaurant meals with meal kit dinners at home.

So, before deciding you can't afford the convenience of meal kits, look deeper into the true costs of meals. Also, if the meal plan prices meals the same no matter what they are, choose dishes with "fancier" ingredients such as salmon to get more bang for your buck.

The other big con of meal plans people mention is the environmental impact of the food packaging and shipping. If the packaging is a concern for you, compare providers and choose the one with the most recyclable, least wasteful packaging. Shipping isn't as bad as it sounds; it actually is likely to have less carbon impact than individuals running to the store in their own car, because the UPS truck delivers to lots of people on the most efficient route possible.
The final verdict: find what works for you and stick with it
Ultimately, if meal kits are a financially feasible option for you that help you monitor what you eat (and skip the drive-thru on busy nights), we say go for it—as long as it's something you think can work for you. To sum up our findings, the best things you can do to see success with meal kits are:

Don't assume all meal kits are healthy. Read the nutrition values of each of your options for the week.
Make healthy choices in addition to the meal kit. A few healthy dinners combined with unhealthy snacking or lack of movement will not yield results.
Don't give up! Meal kits may or may not be a good fit for you, and that's okay.
As weight loss specialists in Rancho Cucamonga, we've seen first-hand that the only undeniable truth when it comes to getting healthy is that commitment is key. There is no single diet or workout routine that is universally effective for everyone, and finding your best fit is what will make all the difference. If you need a little help figure that out or need medical weight loss support, we'd love to talk to you. Contact us today!